April 24, 2017
In my previous posts I wrote about my set-up of MariaDB Galera on Kubernetes. Now I have some first experience with this set-up and can provide some guidance. I used an ill-fated TCP health-check that lead to MariaDB Galera blocking the originating IPv4 address from accessing the cluster due to never completing a MySQL handshake and it seems (logs are gone) that this lead to the sync between different systems breaking too.
When I woke up my entire cluster was down and didn't recover. Some pods restarted and I run into a Azure Kubernetes bug where a Persistent Storage would be umounted but not detached. This means the storage can not be re-attached to the new pod. The Microsoft upstream project is a bit hostile but the issue is known. If you are seeing an error about the storage still being detached/attached. You can go to the portal, find the agent that has it attached and detach it by hand.
To bring the cluster back online there is a chicken/egg problem. The entrypoint.sh discovers the members of the cluster by using environment variables. If the cluster is entirely down and the first pod is starting, it will just exit as it can't connect to the others. My first approach was to keep the other nodes down and use kubectl edit rc/galera-node-X and set replicas to 0. But then the service is still exporting the information. In the end I deleted the srv/galera-node-X and waited for the first pod to start. Once it was up I could re-create the services again.
My next steps are to add proper health checks, some monitoring and see if there is a more long term archive for the log data of a (deleted) pod.
April 22, 2017
Good news for everyone who got no OsmoCon2017 tickets: video recordings of all OsmoCon talks are available at C3VOC (direct search link). Enjoy introductions to, news on and real life reports around the Osmocom mobile communication stack. Great work by the VOC, thanks!
April 16, 2017
April 09, 2017
April 03, 2017
In my previous post I wrote about getting a MariaDB Galera cluster  started on Kubernetes. One of my open issues was how to get my existing VM to connect to it. With Microsoft Azure the first thing is to add Network peering between the Kubernetes cluster and the normal VM network. As previously mentioned the internal IPv4 address of the Galera service is not reachable from outside and the three types of exposing a service are:
LoadBalancer
ClusterIP
NodePort
While the default Microsoft Azure setup already has two LoadBalancers, the kubectl expose –type=LoadBalancer command does not seem to allow me to chose which load balancer to use. So after trying this command my Galera cluster was reachable through a public IPv4 address on the standard MySQL port. While it is password protected it didn't seem like a good idea. To change the config you can use something like kubectl edit srv/galera-cluster and change the type to another one. Then I tried the NodePort type and got the MySQL port exposed on all masters and thanks to the network peering was able to connect to them directly. Then I manually modified the already configured/created Microsoft Azure LoadBalancer for the three masters to export port 3306 and map it to the internal port. I am also doing a basic health check which checks if port 3306 can be connected to.
Now I can start using the Galera cluster from my container based deployment before migrating it fully to Kubernetes. My next step is probably to improve the health checks to only get primaries listed in the LoadBalancer and then add monitoring to it as well.
We are happy to announce that the OsmoCon2017 schedule has just become even more exciting with the addition of two talks on two projects that relate to Osmocom: OpenCellular (as a hardware platform to run OsmoBTS, OsmoBSC, OsmoNITB, ...) and Community Cellular Manager as a software to manage Osmocom-based cellular networks.
Join us at OsmoCon2017 on April 21st, 2017 in Berlin for a full day schedule on Osmocom cellular infrastructure topics!
Community Cellular Manager¶
CCM is a software management and deployment suite enabling the operation of small-scale cellular networks that can also be used with the OpenCellular platform we announced in June. It makes it possible for organizations with limited technical capacity to leverage OpenCellular or third-party radio access network (RAN) solutions to build small-scale cellular networks in their own communities. See here for more information (and source code!).
Speaker: Shaddi Hasan (Facebook)
OpenCellular¶
OpenCellular is an open source and cost-effective, software-defined wireless access platform (for GSM BTS and other standards), aimed to improve connectivity in remote areas of the world. See here for more information about OpenCellular.
Speaker: Kashif Ali (Facebook)
March 27, 2017
As part of my journey to "cloud" computing I built a service that is using MySQL and as preparation for the initial deployment I set myself the following constraints:
Deploy in containers
Be able to tolerate some failure of " VM"s
Be able to grow/replace storage without downtime
Containers
There are pre-made mariadb:10.1 containers but to not rely on a public registry I have used the Microsoft Azure Container Service to upload my container. The integration into the standard docker tools to create and upload containers just worked. It allows me to give a place for modified containers as well.
Cluster
With Azure it doesn't seem possible to online resize (grow) a volume and if I ever want to switch from ext4 to xfs (or zfs?) I should run some form of fault tolerant MySQL to take a node and upgrade it. These days MariaDB 10.1 includes Galera support and besides some systematic issues (which I don't seem to run in as I have little to no transactions) it seems quite easy to set-up.
Fault tolerance
Fault tolerance comes in a couple flavors. Galera is a multi-master database where the cluster will continue to allow writes as long as there is a majority of active nodes. If I start with three nodes, I can take one off the cluster to maintain.
Kubernetes will reschedule a pod/container to a different machine ("agent") in case one becomes unhealthy and it will expose the Galera cluster through a LoadBalancer and a single IPv4 address for it. This means only active members of the cluster will be contacted.
The last part is provided by Microsoft Azures availability set. Distributing the Agents into different zones should prevent all of them to go down at the same time during maintenance.
So in theory this looks quite nice, only practice will tell how this will play out.
Set-up
After having picked Microsoft Azure, Kubernetes and Galera, it is time to set it up. I have started with an example found here. I had to remove some labels to make it work with the current format, moved the container to mariadb:10.1 and modified the default config.
I had to look a bit on how to get persistent storage. I am directly mounting the disk for the pod an alternative is a persistent volume claim. This might be a better approach.
The biggest issue is starting the first service. It requires to pass special parameters to initialize the cluster and involved a round of kubectl edit/kubectl delete to get it up. Having the second and third member join was more easy.
Challenges/TODOs
Besides having to gain more experience with it, I do face a couple of problems with this setup and need to explore solutions (or wait for comments?).
I deployed my application before having a Kubernetes cluster and now need to migrate. The default networking of Kubernetes works by adding a lot of masquerading entries on agents and masters. In the cluster these addresses are routable by masquerading but from external they are not reachable. I need to find a way to access it, probably by sacrificing some redundancy first. The other option is to use kubectl expose but I don't want my cluster to have a public IPv4 address. I need to see how to have an internal load balancer with a private/internal IPv4 address.
Galera cluster management is a bit troubling. The first time I start with a new disk it will not properly connect to the master but would register itself to the LoadBalancer/Service. I manually need to do a kubectl delete of the pod and wait for it to reschedule. That is probably easy to fix. The second part of the problem is that I should use health checks and only register the pod once it has connected and synced to the primaries.
Rolling upgrades seem to have a systematic issue too. The default way for the built-in replication controller looks like a new pod (N+1) will be launched and brought up and then the current galera node will be stopped (back to N). This falls apart with the way I mount the storage/disk. E.g. the new pod can not mount the disk as it is already mounted and the old pod will not be deleted.
Least problematic is auto-scaling. In the example set-up each node is a service by itself, using one persistent disk. It makes scaling the cluster a bit difficult. I can add new nodes and they will discover the master(s) but to have the masters remember the new nodes, I would need to have the pods recycle.
OsmoCon 2017 updates¶
There are some updates related to OsmoCon2017, the first Osmocom Conference, held on April 21st, 2017 in Berlin, Germany.
Summary¶
Summary (for those too busy to read the full post):
Details¶
Schedule has been release¶
The list of talks with their abstracts has been on the website for quite some time, but now we actually have put together a schedule based on those talks.
Please see OsmoCon2017 for the schedule.
As you can see, the day is fully packed with talks about Osmocom cellular infrastructure projects. We had to cut some talk slots short (30min instead of 45min), but I'm confident that it is good to cover a wider range of topics, while at the same time avoiding fragmenting the audience with multiple tracks.
Travel Grants¶
We are happy to announce that we have received donations to permit for providing travel grants!
This means that any attendee who is otherwise not able to cover their travel to OsmoCon 2017 (e.g. because their interest in Osmocom is not related to their work, or because their employer doesn't pay the travel expenses) can now apply for such a travel grant.
For more details see OsmoCon2017_TravelGrants and/or contact osmocon2017@sysmocom.de.
Social Event¶
Tech Talks are nice and fine, but what many people enjoy even more at conferences is the informal networking combined with good food. For this, we have the social event at night, which is open to all attendees.
See more details about it at OsmoCon2017_SocialEvent.
March 26, 2017
March 23, 2017
March 21, 2017
March 17, 2017
The Osmocom core network landscape is transforming. Adding full UMTS Authentication support, paired with the 3G developments of the past year, has rocked the boat of the good old OsmoNITB. Here is why:
From previous 3G announcements1, you may already know that the OsmoNITB, the Network-In-The-Box, combines BSC, MSC and HLR (among other things), which has drawbacks. Our MSC code was nicely placed in a separate libmsc, but libmsc never stood on its own. From the start it always had its fingers deep in libbsc data structures. In 3G core networks, there no longer is a BSC, so we needed a clear interface to talk to libmsc, and make it not depend on libbsc. We do have a standalone OsmoBSC, so technically, it could talk to a standalone MSC implementation, instead of having both in the same program. Thus, on the 3G branch, we basically killed off the BSC part of OsmoNITB: the first step towards our brand new standalone OsmoMSC.
But what is a 3G core network without full 3G authentication? UMTS AKA2 was published in Release 1999 of the 3GPP technical specifications (R99) and provides the means for mutual authentication, usually using the Milenage algorithm. Since R99, SIM cards (USIM) not only verify their authenticity to the core network, they also expect the core network to verify its own authenticity, hence the term mutual authentication. 3G USIMs may fall back to pre-R99 authentication, but in general, 3G is expected to be synonymous with UMTS AKA. So far, Osmocom fell short of that.
We have had the Milenage algorithms implemented in libosmocore for years, but our stock OsmoNITB is unable to use it. The main reason: the subscriber database is incapable of managing UMTS AKA tokens. Another shortcoming of this database is that it runs synchronously in the OsmoNITB process: if it is locked or needs a bit longer, our entire core network stalls until the request is completed. And a third clumsy fact is that the OsmoSGSN cannot use OsmoNITB's subscriber database, duplicating the authorization configuration.
It made sense to solve all of these subscriber database problems in one effort, again trimming OsmoNITB, but this time at the other end. Enter stage the brand new OsmoHLR, a separate process managing the subscriber database:
OsmoHLR has full UMTS AKA support.
It serves GSUP to both our MSC and SGSN.
As a separate process, the HLR now runs fully asynchronously.
Of course, the MSC needs to act as a GSUP client to use the separate OsmoHLR server. We needed to teach libmsc to handle GSUP requests asynchronously. In the 3GPP TS specifications, this is handled by the VLR, the Visitor Location Register. So far the VLR existed implicitly within OsmoNITB, basically as an in-RAM storage of subscriber data read directly from the database storage. But the VLR is more than that: it is specified to follow detailed state machines interacting with MSC and HLR, which allow, you guessed it, asynchronous handling of subscriber data. With the HLR moving to a separate process, we needed to implement a VLR proper. A generic finite state machine implementation has been added to libosmocore, and the specs' state machine definitions for the VLR have been implemented, supporting UMTS AKA right from the start.
Adding the new feature set had the logical consequence of profound code changes. In the 3G developments, we have for some time called the OsmoNITB-without-BSC a Circuit-Switched Core Network (OsmoCSCN). As it turns out, OsmoCSCN was merely a working title, it is already gone from code and documentation. Because, what do you get when you also strip from it the HLR? You get an OsmoMSC! (Technically, to accurately call it "OsmoMSC", we would also need to externalize the SMS storage3. It's on the todo list!)
By now it may be clear to you that OsmoNITB will not be around for long. But the transition away from OsmoNITB is not trivial: users have to get familiar with the new OsmoHLR. OsmoNITB's VTY configuration commands for subscriber management no longer exist. And, of course, our OsmoMSC cannot talk to OsmoBSC yet: to fully replace OsmoNITB with OsmoBSC + OsmoMSC + OsmoHLR, we also need a proper A-interface implementation on the OsmoMSC side. Even though OsmoNITB will stick around as a 2G solution until then, the move to an external HLR process in itself is a profound change in admin processes.
In consequence, we have taken yet another profound decision: we will not merge these new developments to openbsc.git's master branch. To clearly mark the move to the new Osmocom core network topology with the VLR-HLR separation and support for 3G by the new OsmoMSC program, we will create a brand new git repository that will be the focus of ongoing development. The current openbsc.git repository will remain as it is; it may see backports in urgent cases, but in essence it will be laid to rest and clearly marked as legacy4. Before we can flip that switch, we still need to sort out some petty details of what should move where, and then agree on a good name for the new repository. Until then, 2G with UMTS AKA support will live on the openbsc.git vlr_2G branch, while 3G with UMTS AKA support will live on the vlr_3G branch. The vlr_2G branch still features an OsmoNITB, but with an external OsmoHLR. The vlr_3G (previously sysmocom/iu) extends the vlr_2G branch to transform OsmoNITB to OsmoMSC and support the IuCS interface.
What about UMTS AKA on packet-switched connections? OsmoSGSN has had a GSUP client for quite some time now5. In fact GSUP was initially named "GPRS Subscriber Update Protocol" -- the G now re-coined to "Generic". Adding UMTS AKA to the OsmoSGSN was a breeze. You don't even need a special branch for that, it's already merged to master.
UMTS AKA is not limited to 3G. Any 2G network that indicates compliance with Release 1999 in the System Information bits can benefit from mutual authentication, and so does Osmocom, now.
Here is an overview of the current landscape:
Legacy 2G without UMTS AKA
openbsc.git master


                   ┌────────────────────────┐
                   │ OsmoNITB               │
  ┌─────┐          ├╌╌╌╌╌┐ ╔═════╤════════╗ │
  │ BTS │ <-Abis-> │ BSC ┆ ║ SMS ┆ subscr ║ │
  │     │          └─────┴─╨─────┴────────╨─┘
  │     │
  │     │          ┌──────────┐         ┌──────────┐
  │ PCU │ <-Gb---> │ OsmoSGSN │ <-GTP-> │ OpenGGSN │
  └─────┘          └──────────┘         └──────────┘

2G with UMTS AKA
openbsc.git vlr_2G


                   ┌─────────────────────┐
                   │ OsmoNITB            │
  ┌─────┐          ├╌╌╌╌╌┐ ╔═════╗ ┌╌╌╌╌╌┤          ┌────────────┐
  │ BTS │ <-Abis-> │ BSC ┆ ║ SMS ║ ┆ VLR │ <-GSUP-> │ OsmoHLR    │
  │     │          └─────┴─╨─────╨─┴─────┘          │            │
  │     │                                           │            │
  │     │          ┌─────────────────────┐          │ ╔════════╗ │
  │ PCU │ <-Gb---> │ OsmoSGSN            │ <-GSUP-> │ ║ subscr ║ │
  └─────┘          │                     │          └─╨────────╨─┘
                   │                     │          ┌──────────┐
                   │                     │ <-GTP--> │ OpenGGSN │
                   └─────────────────────┘          └──────────┘

3G with UMTS AKA
openbsc.git vlr_3G


                                               ┌─────────────────────┐
                                               │ OsmoMSC             │
  ┌───────────┐         ┌───────────┐          │       ╔═════╗ ┌╌╌╌╌╌┤          ┌────────────┐
  │ 3G hNodeB │ <-Iuh-> │ OsmoHNBGW │ <-IuCS-> │       ║ SMS ║ ┆ VLR │ <-GSUP-> │ OsmoHLR    │
  └───────────┘         │           │          └───────╨─────╨─┴─────┘          │            │
                        │           │                                           │            │
                        │           │          ┌─────────────────────┐          │ ╔════════╗ │
                        │           │ <-IuPS-> │ OsmoSGSN            │ <-GSUP-> │ ║ subscr ║ │
                        └───────────┘          │                     │          └─╨────────╨─┘
                                               │                     │          ┌──────────┐
                                               │                     │ <-GTP--> │ OpenGGSN │
                                               └─────────────────────┘          └──────────┘

2G with UMTS AKA and 3G support are not packaged yet. To use them, you need to build the software from source.
For OsmoNITB with 2G UMTS AKA, you need to build openbsc.git using the vlr_2G branch.
For 3G including UMTS AKA support, refer to the 3G wiki page.
To get assistance, you may ask on the mailing list, or contact for example sysmocom for professional support and development services.
With the help of Osmocom's sponsors and supporters, including but not limited to NLnet and sysmocom, we were able to invest due time and effort and have reached a remarkable milestone: UMTS AKA is now supported on Osmocom 3G as well as 2G networks, using Free Software all the way. Thank you for making this possible!
---
---
---
---
---
March 07, 2017
March 05, 2017
March 03, 2017
The recent Amazon S3 outage should make a strong argument that centralized services have severe issues, technically but from a business point of view as well(you don't own the destiny of your own product!) and I whole heartily agree with "There is no cloud, it's only someone else's computer". 
Still from time to time I like to see beyond my own nose (and I prefer the German version of that proverb!) and the current exploration involves ReactJS (which I like), Tensorflow (which I don't have enough time for) and generally looking at Docker/Mesos/Kubernetes to manage services, zero downtime rolling updates. I have browsed and read the documentation over the last year, like the concepts (services, replication controller, pods, agents, masters), planned how to use it but because it doesn't support SCTP never looked into actually using it.
Microsoft Azure has the Azure Container Services and since end of February it is possible to create Kubernetes clusters. This can be done using the v2 of the Azure CLI or through the portal. I finally decided to learn some new tricks.
Azure asks for a clientId and password and I entered garbage and hoped the necessary accounts would be created. It turns out that the portal is not creating it and also not doing a sanity check of these credentials and second when booting the master it will not properly start. The Microsoft support was very efficient and quick to point that out. I wish the portal would make a sanity check though. So make sure to create a principal first and use it correctly. I ended up creating it on the CLI.
I re-created the cluster and executed kubectl get nodes. It started to look better but one agent was missing from the list of nodes. After logging in I noticed that kubelet was not running. Trying to start it by hand shows that docker.service is missing. Now why it is missing is probably for Microsoft engineering to figure out but the Microsoft support gave me:
After these commands my system would have a docker.service, kubelet would start and it will be listed as a node. Commands like kubectl expose are well integrated and use a public IPv4 address that is different from the one used for ssh/management. So all in all it was quite easy to get a cluster up and I am sure that some of the hick-ups will be fixed…
February 28, 2017
The lucky receivers of a free nano3G femto cell sponsored by sysmocom have been contacted.
The selected projects will be documented at the accelerate3g5 wiki page.
If your project has been selected, kindly follow the instructions found there and mark the start of your project.
We are glad to have reached many new community members and are looking forward to seeing your projects evolve.
Here is a huge Thank You to all contestants from the Osmocom community and the sysmocom team!
February 23, 2017
February 15, 2017
February 12, 2017
February 11, 2017
February 10, 2017
February 01, 2017
The OsmoCon 2017 is the first technical conference for Osmocom users, operators and
developers and will be held on April 21st, 2017 in Berlin, with kind organizational
support by sysmocom s.f.m.c. GmbH.
For the first time ever, the Osmocom Conference brings together users, operators
and developers of the Osmocom Open Source cellular infrastructure projects, such as
OsmoBTS, OsmoBSC, OsmoSGSN, OpenGGSN and others.
Join us for a day of presentations and discussions with the main developers behind
Open Source Mobile Communications, as well as commercial and non-profit users of
the Osmocom cellular infrastructure software.
Read more on our OsmoCon 2017 wiki page
We are glad to announce that sysmocom extends the invitation to join the Accelerate 3.5G project by two weeks. Send your project proposals to apply for one of 50 free ip.access nano3G femto cells.
January 31, 2017
January 22, 2017
January 06, 2017
One week ago at the 33C3 conference, Osmocom core developers Holger and Harald first publicly presented about a new Osmocom project to analyze and reverse engineer a series of Qualcomm-based Cellular modems that run a version of GNU/Linux inside the modem itself. Feel free to see the video recording and/or the slides for more information
At the time the talk was presented, all related information that was gathered by them has been released inside the wiki of a new Osmocom project called Qualcomm Linux Modems by Quectel & Co
We're looking forward to grow this resource further and further - hopefully with your help. Osmocom is a collaborative, community based project, after all.
December 30, 2016
December 29, 2016
Osmocom's support for 2G/GSM is mature and widespread. Since 2016, we're taking
on the next level: 3G/3.5G. The key to running your own 3G network is to obtain
actual 3G cell hardware -- here is an exciting opportunity to get started:
No less than 50 femtocells will be given away for free by sysmocom, one of the
main drivers of the Osmocom project. To receive a free 3G femtocell, tell
sysmocom how you will help the Osmocom project drive 3.5G forward if you had
one, before the end of January 2017. This marks the launch of the 3.5G
Acceleration Project, backed by the Osmocom community. Join us!
Find further details on the 3.5G Acceleration Project and receiving your own 3G
femtocell for free at https://sysmocom.de/downloads/accelerate_3g5_cfp.pdf.
December 16, 2016
December 07, 2016
December 06, 2016
November 27, 2016
November 25, 2016
There are plenty of cellular modems on the market in the mPCIe form factor.
Playing with such modems is reasonably easy, you can simply insert them in a mPCIe
slot of a laptop or an embedded device (soekris, pc-engines or the like).
However, many of those modems actually export interesting singals like digital PCM
audio or UART ports on some of the mPCIe pins, both in standard and in non-standard ways.
Those signals are inaccessible in those embedded devices or in your laptop.
So I built a small break-out board which performs the basic function of exposing the mPCIe
USB signals on a USB mini-B socket, providing power supply to the mPCIe modem, offering a
SIM card slot at the bottom, and exposing all additional pins of the mPCIe header on a
standard 2.54mm pitch header for further experimentation.
The design of the board (including schematics and PCB layout design files) is available
as open hardware under CC-BY-SA license terms. For more information see mpcie-breakout.
If you don't want to build your own board, fully assembled and tested boards are available
via sysmocom
During the past 16 years I have been playing a lot with a variety of embedded devices.
One of the most important tasks for debugging or analyzing embedded devices is usually
to get access to the serial console on the UART of the device. That UART is often exposed
at whatever logic level the main CPU/SOC/uC is running on. For 5V and 3.3V that is easy,
but for ever more and more unusual voltages I always had to build a custom cable or a custom
level shifter.
In 2016, I finally couldn't resist any longer and built a multi-voltage USB UART adapter.
This board exposes two UARTs at a user-selectable voltage of 1.8, 2.3, 2.5, 2.8, 3.0 or 3.3V.
It can also use whatever other logic voltage between 1.8 and 3.3V, if it can source a reference
of that voltage from the target embedded board.
Rather than just building one for myself, I released the design as open hardware under CC-BY-SA
license terms. Full schematics + PCB layout design files are available.
For more information see mv-uart.
In case you don't want to build it from scratch, ready-made machine assembled boards are also made
available from sysmocom
November 24, 2016
October 03, 2016
I am glad to announce that we have succeeded in placing a 3G voice call between
two phones using an hNodeB cell and the Osmocom 3G core network. Find attached
a full network trace including IuCS signalling as well as the RTP voice stream.
This, proudly, is the first publicly available pcap of Iuh, IuCS and IuPS, and
it was created using exclusively free software in the core network stack.
The Osmocom 3G stack is being developed at sysmocom, supported by highly
appreciated sponsoring from NLnet and sysmocom customers -- thank you for
making this possible!
Osmocom has had 3G data connectivity working for some months now3, and the
IuPS code has already been merged to OpenBSC's master branch (though it still
requires libosmo-netif, libosmo-sccp and asn1c to be built from the branches
indicated below).
The 3G voice counterpart is taking somewhat longer, not because it's more
difficult per se, but mostly because it needs profound refactoring of our MSC.
So far our MSC was closely tied to the BSC code, and to include IuCS, we need to
separate them.
Are we done with 3G now? Not quite. Things need to be made fully configurable,
proper 3G authentication needs to be integrated, and all work needs to be put in
a stable release. We would also like to have a proper 2G A interface as a
companion to the 3G IuCS interface, which would allow us to completely replace
the OsmoNITB with the new OsmoCSCN.
NOTE from the future: OsmoCSCN has since been renamed to OsmoMSC!
Read this as a humble invitation to join NLnet1 and other sysmocom customers
in funding the open source 3G core network development here at sysmocom2.
The resulting software stack is free for everyone, including you, both in the
sense of free speech as well as the proverbial free beer, and we can still use
all the support we can get to wrap this up. If you would like to see this working
sooner rather than later, do not hesitate to contact us2.
So, we're still working on Osmocom 3G, but if you would like to take a look
ahead, here is how:
We have a 3G authentication implementation ready, but since this is not yet
integrated in our HLR/VLR and MSC libraries, we're still working with hardcoded
2G authentication tokens. So to test, you still need specially provisioned SIM
cards. Firstly, they must be incapable of 3G authentication, so that the phone
decides to fall back to 2G auth. Secondly, they must all be programmed with a
Ki of 000102030405060708090a0b0c0d0e0f. If you need help here, feel free to
contact us2 -- we're in the meantime working on integrating full 3G
authentication with osmo-cscn and osmo-sgsn.
To set up a 3G core network based on free Osmocom software, this is what you
need:

                                 +--------+
                             ,-->| MGCPGW |<--RTP--...
                            /    |        |
                            |    |        |<--MGCP
                            |    +--------+       \
                            /                     |
        +------------+<--RTP     +--------+       `->+----------+
 UE <-->| hNodeB     |           | HNB-GW |          | OsmoCSCN |
 UE <-->|            |<--Iuh---->|        |<--IuCS-->|          |
        |            |     ...-->|        |    ...-->|          |
        |            |           |        |          +----------+
        +------------+<--GTP-U   |        |
                              \  |        |          +------+           +------+
                              |  |        |<--IuPS-->| SGSN |<--GTP-C-->| GGSN |
                              |  +--------+    ...-->|      |   GTP-U-->|      |
                              |                      +------+  /        +------+
                              \_______________________________/

Instead of a traditional NodeB, we use "smaller" hNodeB 3G cell hardware to take
care of the radio interface. This has the advantage that it already has an RNC
integrated, which we would otherwise need to implement separately. The RNC will
talk Iuh, i.e. HNBAP and RANAP4, to OsmoHNBGW running on your box, let's call it
the core network computer (CN).
Besides the HNB-GW, your CN further comprises of OsmoCSCN for voice signalling
as well as the OsmoMGCPGW to direct RTP streams. For data, there are OsmoSGSN
and OpenGGSN.
In short, Iuh is the combined voice (IuCS, Iu circuit switched) and data (IuPS,
Iu packet switched) signalling, which the HNB-GW splits to OsmoCSCN (circuit
switched core network) and OsmoSGSN. When a phone (UE, user equipment) starts
a call, OsmoCSCN takes care of all the signalling, from authentication to RAB
assignment, and instructs the MGCPGW to forward the RTP streams from the hNodeB,
in our case, back to the same hNodeB and to the other UE. In the field, the
MGCPGW would instead forward to a remote media gateway.
To set up your CN, build and install the following projects from
http://git.osmocom.org, using below branches; the current state of which have
also been tagged as '3G_2016_09':
Once the CN stack is built, set up the configuration. Find attached files for an
example of a local test setup. Some details explained:
Tell the osmo-hnbgw which local IP address to use to listen for Iuh connections.
This needs to be on an interface reachable by the hNodeB. The IuCS and IuPS
links towards the osmo-cscn and osmo-sgsn are so far still hardcoded as
127.0.0.1 and 127.0.0.2, respectively, i.e. osmo-cscn and osmo-sgsn should run
on the same machine as the osmo-hnbgw. These will listen on the proper port
without further configuration (still hardcoded).
Also tell the MGCPGW (osmo-bsc_mgcp) which local IP address to bind to, which
has to be reachable both by the hNodeB as well as the osmo-cscn process. The
osmo-cscn.cfg is then told where to reach the MGCPGW.
A notable detail for 3G data is that the GGSN has to be reachable by the hNodeB.
Since the GTP standard defines fixed port numbers which both SGSN and GGSN have
to to use, the SGSN may not bind on the same IP address as the GGSN.
Once you have configured the IP addresses, start up your core network: launch
osmo-cscn, osmo-bsc_mgcp, osmo-sgsn, ggsn and osmo-hnbgw. You should see log
messages indicating established IuCS and IuPS links (HNBGW, CSCN and SGSN).
With your CN up and running, configure the hNodeB to contact osmo-hnbgw. Also
make sure the PLMN ID and LAC are configured correctly, to match the MCC and
MNC in the osmo-cscn.cfg -- otherwise the hNodeB may reject all attach requests.
Finally, do authorize the SIM card's IMSI, e.g. using osmo-cscn's telnet VTY,
and if necessary configure the hNodeB to allow access by this IMSI.
The attached pcap file contains a complete network trace of:
HNBAP of hNodeB registering at the HNB-GW;
two UEs registering first at the HNB-GW (HNBAP UE Register) and then on IuCS
and IuPS (MM Location Updating, GMM Attach), coming in via Iuh at the HNB-GW
and forwarded to OsmoCSCN and OsmoSGSN;
the two UEs browsing the websites nlnet.nl5 and the current xkcd webcomic,
with PDP Context allocation as well as GTP-C and GTP-U6;
a voice call where the one UE calls the other (i.e. MO with Service Request to
MT with Paging), with the RTP stream directed through our MGCP GW using CRCX
and MDCX instructions;
each UE sending an SMS to the other.
The IP addresses used in attached network trace are:
10.9.1.11: hNodeB 3G femto cell;
10.9.1.120: CN computer's interface for Iuh and RTP, as well as the SGSN's
GTP-C side towards the GGSN;
10.9.1.13: CN computer's interface for GTP-U towards the hNodeB as well as
GTP-C towards the SGSN7;
127.0.0.1: loopback on the CN computer for IuCS;
127.0.0.2: loopback on the CN computer for IuPS;
10.23.42.*: IP addresses given to UEs within the GTP tunnel;
all other IP addresses are remote servers contacted by the UEs.
When looking at network traces, note the various protocols: Iuh, IuCS and IuPS
communicate via SCTP (as opposed to TCP or UDP). You will see the same Iu
messages twice8, e.g. once on IuCS between HNB-GW and CSCN, encapsulated in
RANAP/SUA9, and again on Iuh between HNB-GW and hNodeB, encapsulated in
RANAP/RUA. In contrast, the MGCP configuration and RTP streams for voice use
UDP, and so do GTP-U and GTP-C for the data link.
In conclusion, we still need some work to reach our goal of a fully operational
3G core network. The attached trace of a 3G voice call using exclusively free
Osmocom software proves that we are now very close indeed.
We invite you to test and use our 3G core network stack, and if you can,
consider joining NLnet and sysmocom as sponsor of the ground breaking work in
the Osmocom community.
Edit: see also Getting Started with 3G
---
---
---
---
---
---
---
---
---
---
September 29, 2016
A long time ago I wrote the OpenEmbedded User Manual and back then the obvious choice was to make it a docbook. In my community there were plenty of other examples that used docbook and it helped to get started. The great thing of docbook was with one XML input one could generate output in many different formats like HTML, XHTML, ePub or PDF. It separated the format from the presentation and was tailored for technical documents and articles with advanced features like generating a change history, appendix and many more. With XML entities it was possible to share chapters and parts between different manuals.
When creating Sysmocom and starting to write our usermanuals we have continued to use docbook. After all besides the many tags in XML it is a format that can be committed to git, allowing review and the publishing is just like a software build and can be triggered through git.
On the other hand writing XML by hand, indenting paragraphs to match the tree structure of the document is painful. In hindsight writing a docbook feels more like writing xml tags than writing content. I started to look for alternatives and heard about asciidoc, discarded it and then re-evaluated and started to use it as default. The ratio of content to formatting is really great. With a2x we continued to use docbook/dblatex to render the document. With some trial and error we could even continue to use the docbook docinfo (-a docinfo and a file manual-docinfo.xml). And finally asciidoc can be used on github as well. It works by adding .adoc to the filename and will be rendered nicely.
So with asciidoc, restructured text (rst), markdown (md) and many more (textile, pillar, …) we have great tools that make it easier to focus on the content and have an okay look. The downside is that there are so many of them now (and incompatible dialects). This leads to rendering tools having big differences, e.g. not being able to use a docinfo for PDF generation, being able to add raw PDF commands, etc.
I am currently exploring to publish documentation on readthedocs.org and my issue is that they are using Python sphinx which only works with markdown or restructure text. As github can't
In the attempt to pick-up users where they are I am exploring to use readthedocs.org as an additional channel for documents. The website can integrate with github to automatically rebuild the documentation. One issue is that they exclusively use Python sphinx to render the documentation and that means it needs to use rst or markdown (or both) as input.
I can go down the xkcd way and create a meta-format to rule them all. Try to use pandoc to convert these documents on the fly (but pandoc already had some issues with basic tables rst) or switch the format. I looked at rst2pdf but while powerful seems to be lacking the docinfo support and markdown. I am currently exploring to stay with asciidoc and then use asciidoc -> docbook -> markdown_github for readthedocs. Let's see how far this gets.
September 20, 2016
Going from 2G/3G requires to learn a new set of abbreviations. The network is referred to as IP Multimedia Subsystem (IMS) and the HLR becomes Home subscriber server (HSS). ITU ASN1 to define the RPCs (request, response, potential errors), message structure and encoding in 2G/3G is replaced with a set of IETF RFCs. From my point of view names of messages, names of attributes change but the basic broken trust model remains.
Having worked on probably the best ASN1/TCAP/MAP stack in Free Software it is time to move to the future and apply the good parts and lessons learned to Diameter. The first RFC is to look at is RFC 6733 – Diameter Base Protocol. This defines the basic encoding of messages, the requests, responses and errors, a BNF grammar to define these messages, when and how to connect to remote systems, etc.
The core part of our ASN1/TCAP/MAP stack is that the 3GPP ASN1 files are parsed and instead of just generating structs for the types (like done with asn1c and many other compilers) we have a model that contains the complete relationship between application-context, contract, package, argument, result and errors. From what I know this is quite unique (at least in the FOSS world) and it has allowed rapid development of a HLR, SMSC, SCF, security research and more.
So getting a complete model is the first step. This will allow us to generate encoders/decoders for languages like C/C++, be the base of a stack in Smalltalk, allow to browse the model graphically, generate fancy pictures, …. The RFC defines a grammar of how messages and grouped Attribute-Value-Pairs (AVP) are formatted and then a list of base messages. The Erlang/OTP framework has then extended this grammar to define a module and relationships between modules.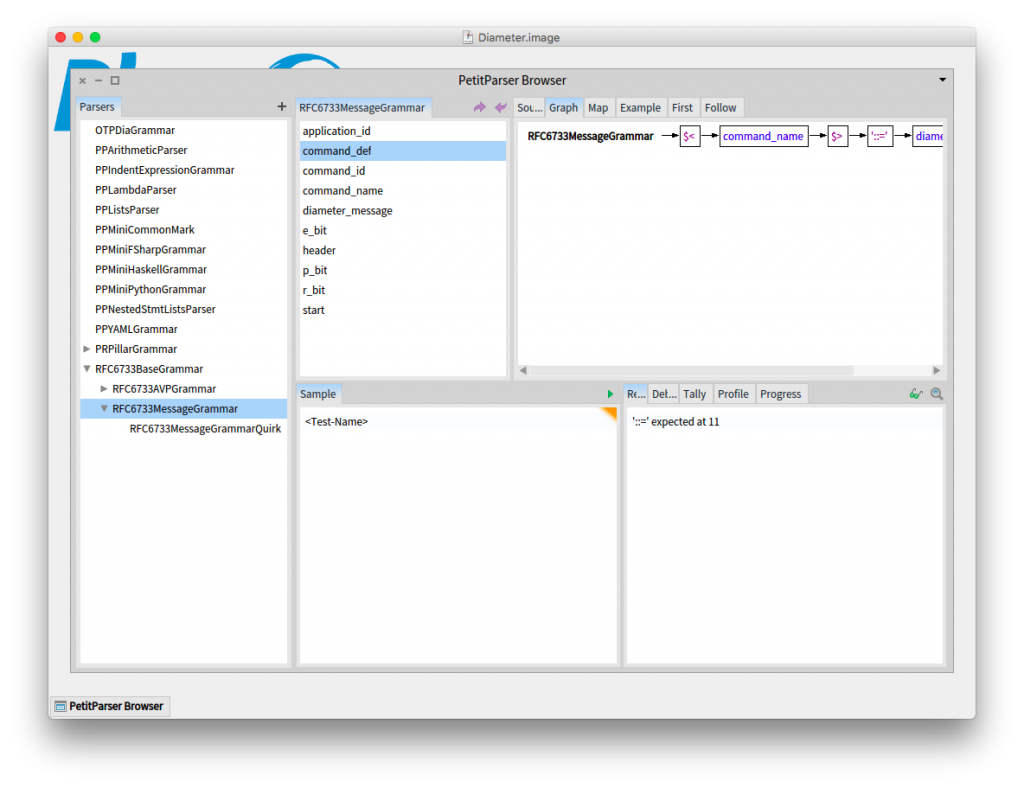 I started by converting the BNF into a PetitParser grammar. Which means each rule of the grammar becomes a method in the parser class, then one can create a unit test for this method and test the rule. To build a complete parser the rules are being combined (and, or, min, max, star, plus, etc.) with each other. One nice tool to help with debugging and testing the parser is the PetitParser Browser. It is pictured above and it can visualize the rule, show how rules are combined with each other, generate an example based on the grammar and can partially parse a message and provide debug hints (e.g. '::=' was expected as next token).
After having written the grammar I tried to parse the RFC example and it didn't work. The sad truth is that while the issue was known in RFC 3588, it has not been fixed. I created another errata item and let's see when and if it is being picked up in future revisions of the base protocol.
The next step is to convert the grammar into a module. I will progress as time permits and contributions are more than welcome.
September 18, 2016
Introduction
Previously I have written about connectivity options for IoT devices and today I assume that a cellular technology (e.g. names like GSM, 3G, UMTS, LTE, 4G) has been chosen. Unless you are a big vendor you will end up using a module (instead of a chipset) and either you are curious what the module is doing behind its AT command interface or you are trying to understand a real problem. The following is going to help you or at least be entertaining.
The xgoldmon project was a first to provide air interface traces and logging to the general public but it was limited to Infineon baseband (and some Gemalto devices), needed special commands to enable and didn't include all messages all the time.
In the last months I have intensively worked with modules of a vendor called Quectel. They are using Qualcomm chipsets and have built the GSM/UMTS Quectel UC20 and the GSM/UMTS/LTE Quectel EC20 modules. They are available as a variant to solder but for speeding up development they provide them as miniPCI express as well. I ended up putting them into a PCengines APU2, soldered an additional SIM card holder for the second SIM card, placed U.FL to SMA connectors and put it into one of their standard cases. While the UC20 and EC20 are pretty similar the software is not the same and some basic features are missing from the EC20, e.g. the SIM ToolKit support. The easiest way to acquire these modules in Europe seems to be through the above links.
The extremely nice feature is that both modules export Qualcomm's bi-directional DIAG debug interface by USB (without having to activate it through an undocumented AT command). It is a framed protocol with a simple checksum at the end of a frame and many general (e.g. logging and how regions are described) types of frames are known and used in projects like ModemManager to extract additional information. Some parts that include things like Tx-power are not well understood yet.
I have made a very simple utility available on github that will enable logging and then convert radio messages to the Osmocom GSMTAP protocol and send it to a remote host using UDP or write it to a pcap file. The result can be analyzed using wireshark.
Set-up
You will need a new enough Linux kernel (e.g. >= Linux 4.4) to have the modems be recognized and initialized properly. This will create four ttyUSB serial devices, a /dev/cdc-wdmX and a wwanX interface. The later two can be used to have data as a normal network interface instead of launching pppd. In short these modules are super convenient to add connectivity to a product.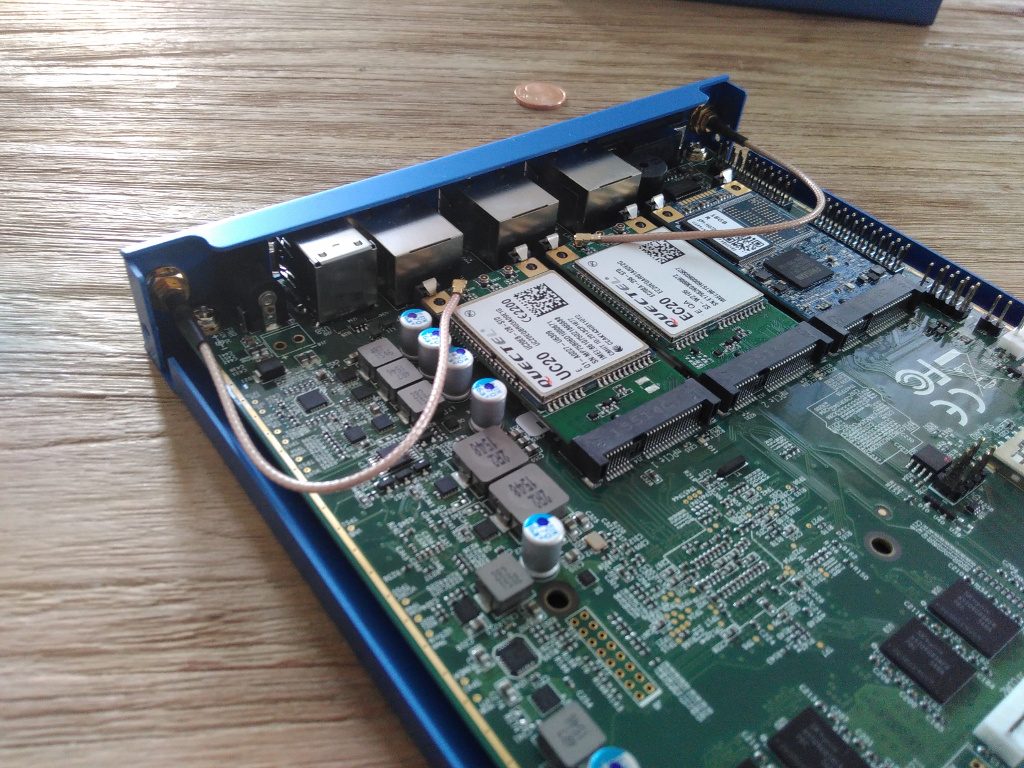 PCengines APU2 with Quectel EC20 and Quectel UC20
Building
The repository includes a shell script to build some dependencies and the main utility. You will need to install autoconf, automake, libtool, pkg-config, libtalloc, make, gcc on your Linux distribution.

git clone git://github.com/moiji-mobile/diag-parser
cd diag-parser
./build/build_local.sh

Running
Assuming that your modem has exposed the DIAG debug interface on /dev/ttyUSB0 and you have your wireshark running on a system with the internal IPv4 address of 10.23.42.7 you can run the following command.

./diag-parser -g 10.23.42.7 -i /dev/ttyUSB0

Exploring
Analyzing UMTS with wireshark. The below shows a UMTS capture taken with the Quectel module. It allows you to see the radio messages used to register to the network, when sending a SMS and when placing calls.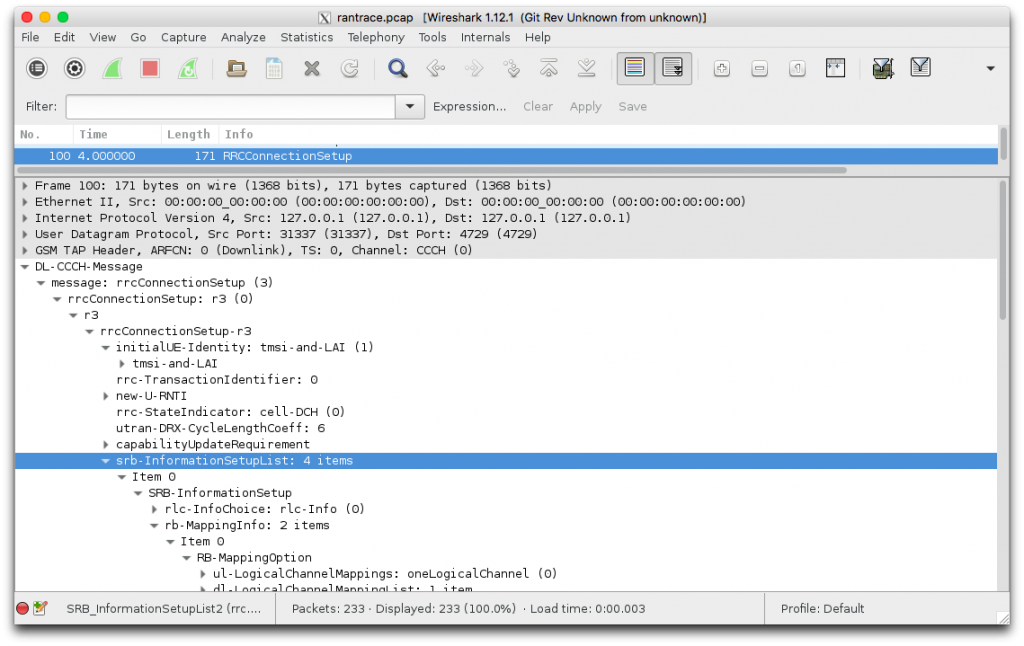 Wireshark dissecting UMTS
August 22, 2016
To make this thought experiment a bit more real let's imagine we want to build a bicycle lock/tracker. Many of my colleagues ride their bicycle to work and bikes being stolen remains a big tragedy. So the primary focus of an IoT device would be to prevent theft (make other bikes a more easy target) or making selling a stolen bicycle more difficult (e.g. by easily checking if something has been stolen) and in case it has been stolen to make it more easy to find the current location.
Architecture
Let's assume two different architectures. One possibility is to have the bicycle actively acquire the position and then try to push this information to a server ("active push"). Another approach is to have fixed installed scanning stations or users to scan/report bicycles ("passive pull"). Both lead to very different designs.
Active Push
The system would need some sort of GNSS module, a microcontroller or some full blown SoC to run Linux, an accelerator meter and maybe more sensors. It should somehow fit into an average bicycle frame, have good antennas to work from inside the frame, last/work for the lifetime of a bicycle and most importantly a way to bridge the air-gap from the bicycle to the server.

Push architecture
The device would not know its position or if it is moved. It might be a simple barcode/QR code/NFC/iBeacon/etc. In case of a barcode it could be the serial number of the frame and some owner/registration information. In case of NFC it should be a randomized serial number (if possible to increase privacy). Users would need to scan the barcode/QR-code and an application would annotate the found bicycle with the current location (cell towers, wifi networks, WGS 84 coordinate) and upload it to the server. For NFC the smartphone might be able to scan the tag and one can try to put readers at busy locations.
The incentive for the app user is to feel good collecting points for scanning bicycles, maybe some rewards if a stolen bicycle is found. Buyers could easily check bicycles if they were reported as stolen (not considering the difficulty of how to establish ownership).
World wide usable
Radio Technology operates on a specific set of radio frequencies (Bands). Each country may manage these frequencies separately and this can lead to having to use the same technology on different bands depending on the current country. This will increase the complexity of the antenna design (or require multiple of them), make mechanical design more complex, makes software testing more difficult, production testing, etc. Or there might be multiple users/technologies on the same band (e.g. wifi + bluetooth or just too many wifis).
Power consumption
Each radio technology requires to broadcast and might require to listen or permanently monitor the air for incoming messages ("paging"). With NFC the scanner might be able to power the device but for other technologies this is unlikely to be true. One will need to define the lifetime of the device and the size of the battery or look into ways of replacing/recycling batteries or to charge them.
Range
Different technologies were designed to work with sender/receiver being away at different min/max. distances (and speeds but that is not relevant for the lock nor is the bandwidth for our application). E.g. with Near Field Communication (NFC) the workable range is meters while with GSM it will be many kilometers and with UMTS the cell size depends on how many phones are currently using it (the cell is breathing).
Ideally we want something that works over long distances, requires no battery to send/receive and the system is still pushing out the position/acceleration/event report to servers. Sadly this is not how reality works and we will have to set priorities.
The more bands to support, the more complicated the antenna design, production, calibration, testing. It might be that one technology does not work in all countries or that it is not equally popular or the market situation is different, e.g. some cities have city wide public hotspots, some don't.
Higher power transmission increases the range but increases the power consumption even more. More current will be used during transmission which requires a better hardware design to buffer the spikes, a bigger battery and ultimately a way to charge or efficiently replace batteries.Given these constraints it is time to explore some technologies. I will use the one already mentioned at the beginning of this section.
Technologies
Conclusion
Both a push and pull architecture seem to be feasible and create different challenges and possibilities. A pull architecture will require at least Smartphone App support and maybe a custom receiver device. It will only work in regions with lots of users and making privacy/tracking more difficult is something to solve.
For push technology using GSM is a good approach. If coverage in South Korea or Japan is required a mix of GSM/UMTS might be an option. NB-IOT seems nice but right now it is not deployed and it is not clear if a module will require less power than a GSM module. NB-IOT might only be in the interest of basestation vendors (the future will tell). Using GSM/UMTS brings its own set of problems on the device side but that is for other posts.
August 21, 2016
I decided to use the Linux network namespace support and opted for using docker to achieve it. There are some hick-ups but in general it is a great step forward. Using a statement like the following we execute our CI script in a clean environment.
As part of the OpenBSC build we are re-building dependencies and thanks to building in the virtual /build directory we can look at archiving libosmocore/libosmo-sccp/libosmo-abis and not rebuild it all the time.
August 16, 2016
July 28, 2016
Harald Welte will deliver workshop on Running your own cellular network using OpenBSC & Co at the Electromagnetic Field Camp.
The workshop is currently scheduled at Saturday August 6th at 10:00 AM in Workshop 2
More information can be found at https://www.emfcamp.org/line-up/2016/183
Harald Welte will deliver workshop on Tracing (U)SIM card communication using Osmocom SIMtrace at the Electromagnetic Field Camp.
The workshop is currently scheduled at Saturday August 6th at 3:40 PM in Workshop 2
More information can be found at https://www.emfcamp.org/line-up/2016/184
libgtpnl, the library for Linux GTP netlink support, has been re-licensed under LGPLv2.1-or-later, instead of the existing GPLv2-or-later in order to facilitate its use from GPL-incompatible free software projects.
The release is tagged as 1.0.1 at http://git.osmocom.org/libgtpnl/tag/?h=1.0.1
July 24, 2016
Back in May, Osmocom developer Max Suraev has been working on implementing both uplink and downlink DTX support in the Osmocom GSM stack, most notably OsmoBTS and the OpenbSC libbsc (OsmoBSC and OsmoNITB).

The purpose of uplink DTX is to
reduce uplink interference with other (remote) cells on the same ARFCNs
conserve battery power in the mobile station (lower transmit duty cycle)
The purpose of downlink DTX is to
reduce power consumption and heat dissipation on the BTS
reduce downlink interference with other (remote) cells on the same ARFCNs
Downlink DTX is only permitted on secondary trnansceivers, i.e. on those TRX that do not carry the FCCH/SCH/BCCH beacon.
All related patches to OsmoBTS and OpenBSC have meanwhile been merged. You can use the dtx uplink [force] and dtx downlink VTY commands at the BTS node to enable the features.
July 23, 2016
July 17, 2016
The classic ETSI/3GPP specifications about GSM, particularly those related to A-bis, assume a fairly static allocation of the timeslots of a TRX inside a BTS. This means that the administrator configures each timeslot in the BSC to be one of the permitted channel combinations, for user traffic that's either SDCCH, TCH/F, TCH/H or PDCH.
The Osmocom project software, including OsmoBSC, OsmoNITB, OsmoBTS and OsmoPCU followed this static timeslot allocation when first implementing the related standards and systems.
This static allocation, particularly between circuit-switched calls and packet data leads to sub-optimal use of available (scarce) resources. What if there are no voice calls, but a high demand for packet data? Or why not (as an operator policy) provide more voice channels on demand, at the expense of packet data?
In 2013 years, Osmocom developer Andreas Eversberg did a BSC-side implementation of dynamic PDCH switching in OsmoNITB. However, related code unfortunately never made it to Osmocom master and it exposed some bit-rot over the years.
Neels Hofmeyr has recently picked up those patches, extended, fixed and forward-ported them to current master. They were subsequently merged. Corresponding changes inside OsmoBTS have been made with osmo-bts-sysmo and osmo-bts-litecell15, and have also been merged. Implementation for osmo-bts-trx is still ongoing (but difficult due to the desolate state of osmo-bts-trx with lack of a current maintainer).
With this first series of changes, only switching between TCH/F and PDCH is possible. Neels is currently working on making TCH/F, TCH/H and PDCH dynamic, resulting in even more flexibility even among full-rate and half-rate voice channels.
July 16, 2016
All the years since OsmoSGSN came first into existance, it never had gained GPRS encryption support. While the original code had been written with encryption in mind, and libosmocore even contained a plugin infrastructure for GPRS encryption plugins, nobody had so far connected the dots, figured out the bugs in the existing code and made it fully work.

Thanks to analysis by Dieter Spaar and Max Suraev, we now have a functional implementation of GPRS encryption in OsmoSGSN. The SGSN contains the core infrastructure for it, while encyption is handled via libosmocore. A GEA3 implementation has just been merged to libosmocore - we also have experimentally verified operation with GEA1 + GEA2, but unfortunately no public documentation / implementation of those security by obscurity algorithms is available yet.

In terms of the SGSN changes required: Most have been merged, while some are still in the gerrit review process, see https://gerrit.osmocom.org/#/q/topic:gea

Over the past weeks, Osmocom developer Daniel Willmann has been working on various improvements/extensions of the popular wireshark dissector in the context of using it with (Osmocom) GSM networks.

The extensions include:
support for playback of AMR from captured RTP streams (using libopencore-amrnb)
extend RTP jitter/delay statistics for AMR-RTP as used in A-bis/IP and A/IP
a new dissector for the Osmux (Osmocom Multiplex) protocol
statistics support for the Osmux protocol.
The above features allow for much better analysis of any voice plane related issues in Osmocom GSM networks.
All related changes can be found in http://git.osmocom.org/wireshark/log/?h=daniel/osmux and we are actively submitting them to mainline wireshark at this point.